Roger Reynolds: Sonor Ensemble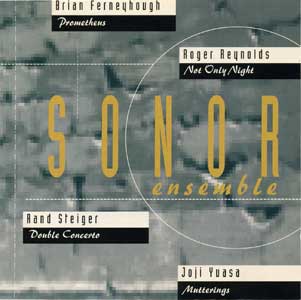 Available at:
Amazon.com


Not Only Night (1988)
Soprano, flute, clarinet, violin, cello, piano
by Roger Reynolds

Other composers on the recording:
Brian Ferneyhough
Rand Steiger
Joji Yuasa

Liner notes by Roger Reynolds

Primary Artist(s): Carol Plantamura, John Fonville, Robert Zelickman, János Négyesy, Peter Farrell, Aleck Karis, Harvey Sollberger, Conductor

Label: Composers Recordings, Inc. / Anthology of Recorded Music, Inc. NWCR652

Dates of recording: 1993

Recording, editing, mastering:
Josef Kucera

About:
Not Only Night was built up around Schoenberg's dark and gripping treatment of Nacht in Pierrot lunaire. It involved the setting of two of Otto Erich Hartleben's recastings of Albert Giraud's original fifty-poem set, texts that the master had bypassed in his work. Not Only Night was written in response to an imaginative design by Leonard Stein.

I established two outriggers to Schoenberg's central vessel, each with a song and a transitional interlude. The overall design of my miniature triptych includes two new songs: "Abend," which begins the work, and "Morgen," which brings it to a close. The first interlude grows out of a violin solo that occurs at the end of "Abend" and leads from my first song into the Schoenbergian heart of the matter. Complementarily, a duet of natural harmonics between the violin and the cello precedes the beginning of "Morgen," providing a second interlude that links it to Nacht. Each interlude has sent into it a germinal instrumental passage: that during the first (for piccolo and E-flat clarinet) is the source of the primary accompaniment for the vocal line in "Morgen's"; that during the second (for flute alone) is the origin of "Abend's" accompanying line.

Not Only Night is a fabric woven of derivation and commentary. Prefiguration and aftermath as well as surreal shattering and rejuxtaposing were used in the newly composed music. The pitch materials were derived from Schoenberg's harmonic behaviors in Nacht.
– from the liner notes